How to Prepare for Severe Weather
11/30/2020 (Permalink)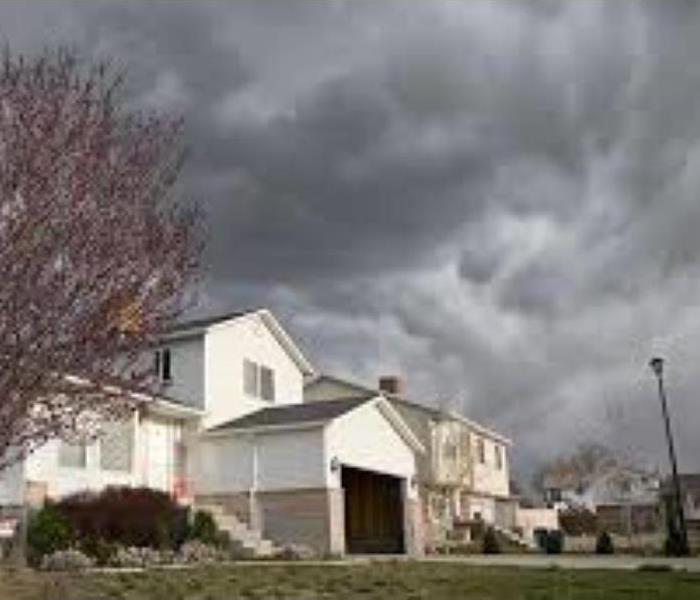 Nine Storm Preparation Tips
Get and stay informed.
Tune in to the local radio or TV station and community alert system for emergency information. Keep a battery-operated/solar-powered radio on hand.
Inspect the emergency survival kits and the food and water supply.
The emergency kits should be stocked with essential items. If one or more are not available, purchase the necessary items to properly outfit the kits. Stock up with a two-week supply of food and water.
Round up plenty of LED flashlights and batteries.
LED flashlights burn much brighter and last much longer than traditional flashlights. Heavy-duty solar-powered landscape lights can perform a double function as an attractive landscape feature and as an emergency light. Gather them up before the threatening storms, tornadoes, or approaching hurricane.
Fully charge the car chargers.
The chargers can be used to charge a personal cell phone, smartphone, and other portable devices.
Secure all outdoor furniture.
Secure outdoor furniture and other objects or move them inside. An EF-2 (135 mph) or EH-3 (140 mph) tornado can destroy an outdoor swing or trampoline. Deck furniture can disappear never to be seen again.
Collect tools and emergency building materials.
Sandbags, plywood, and waterproof tarps will come in handy if windows are blown out, or a roof is torn off, or the shingles are damaged. Keeping as much water as possible out of homes and businesses will reduce damage to the interior. Keeping the inside as dry as possible will hinder the growth and spread of mold.
Fill up automobiles and equipment.
Store fresh fuel for the emergency generator if one is available. Use approved fuel containers and store the fuel in a safe, dry place.
Know how to shut off the utilities.
Should the home or business receive extensive damage, it may be necessary to shut off utilities, such as gas, electricity, and water. If evacuation is required, turn off utilities before leaving if time permits.
Gather documents and records.
After a severe storm disaster, residents may need ID to prove who they are. Gather and store ID documents in a portable waterproof, fire-safe security chest. Important identification documents include birth certificates, Social Security cards, marriage certificates, adoption papers, passports, naturalization documents, wills, living wills, powers of attorney, and property deeds/titles. If there is room in the chest, include essential or memorable DVDs, portable disks, and flash drives. A better solution may be to create a document cache with files and images of relevant documents, ID cards, and photos. This cache can be stored on the cloud, and duplicated on a flash drive that is kept on hand. Personal IT management is essential, especially during and after a house fire or natural disaster.
Conclusion
Preparation is the key to weathering the storm when it hits. When it does, contact a storm damage restoration specialist. Emergency tarping and boarding, site stabilization and security, immediate water damage restoration, and other disaster recovery procedures can best be implemented by expert technicians facilitated by advanced equipment and technologies.
SERVPRO of Morro Bay to King City is a trusted leader in the restoration industry as well as in the local community. We provide 24-hour emergency service and are dedicated to responding faster to any size disaster. We pride ourselves on having not only the training but also the expertise to handle our customer's restoration and cleaning needs. We are locally owned and operated and can respond immediately to any emergency. Being locally owned, we make every effort to stay involved in the community providing our time and services when needed.